Apps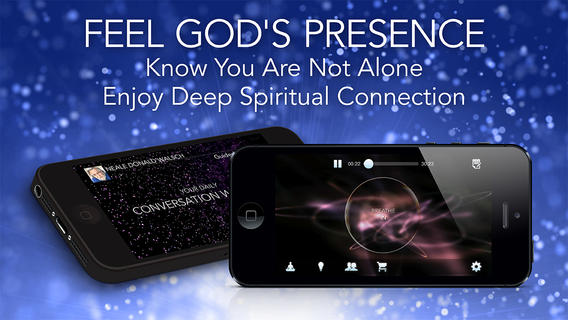 A conversation with God can happen through prayer, supplication, certain devotional practices, meditation, visualization, and other traditional means. But now, for the first time, advanced mobile technology offers you the opportunity to have your own Conversation with God whenever you wish... right on your iPhone or iPad.
You are invited to join Neale as he personally guides you through a unique, multi-sensory meditation process to help you:
Experience a calm sense of present moment awareness
Remove the obstacles that block your spiritual evolution
Feel a powerful sensation of spiritual connection any time
Become fully attuned to your deepest inner wisdom and clarity
Know that your are never alone, and are loved and supported at all times
Spiritually and physically feel the presence of God, anywhere, anytime
Engage each day with renewed purpose, gratitude and positive expectation
Effortlessly awaken to a happier, more centered and fulfilling life
Far more than just another guided meditation, this app can serve as a life-changing, "whole-body" transformational tool. By combining beautiful animation, soothing hypnosis music and advanced brainwave technology, the app helps slow your breathing and calm your body's stress chemistry, gently guiding you into a deep state of relaxation, from which you can absorb the spiritual messages you're hearing not just with your ears, but with your entire being.
Find out why this was recently named one of the Top Meditation Apps at AppPicker: